If you have company documents you no longer need, you need a corporate document destruction company located in the GTA that can reach you quickly. Those documents could become a security threat if they got into the wrong hands. Protect your company from a security breach with mobile shredding that does away with your unneeded paper documents.
On-Site Destruction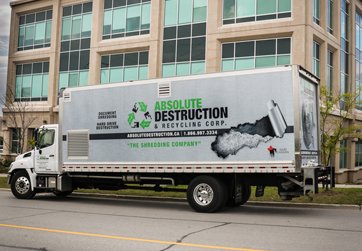 Have Documents to destroy?
We will come to you!
Our onsite shredding service provides peace of mind that your confidential materials are destroyed on your premises with our on-site mobile shredding truck.
Ask about our:
Regularly Scheduled Console and One-Time pick-up service options
Off-Site Destruction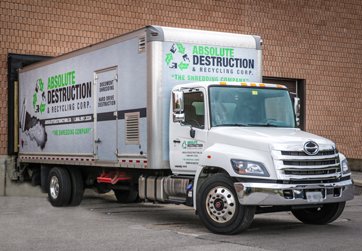 Do you have a lot of documents and files you want to get rid of?
Do you need to make some extra space in the office?
We'll gladly come to your location to pick up your documents. Thanks to our speedy pick-up services, you can free your office or warehouse from clutter.
Competitive rates are available for large volume pickups.
Once your documents have been removed and shredded, a certificate of destruction is provided. You can have piece of mind that all shredded paper will be recycled.
Common documents for shredding. If you are unsure of your material give us a call!
Legal documents
Blueprints
Architectural designs
Tax filings
Business contracts
Employee details
Pay roll information
Marketing material
Business plans
Presentations
Agreements
HR documents
Learn More About Commercial Document Destruction
On-site and off-site commercial document destruction are the safest way to destroy paper documents, electronic devices and less commonly found forms of liability. In addition to documents like blue prints, legal documents, contracts, pay roll information and tax forms, Absolute Destruction can also handle ID cards, access cards, uniforms, promotional items, business logos and just about everything else you need destroyed.
We also offer regularly scheduled commercial document destruction using consoles and locked bins. Leave your sensitive documents locked up in the console. We pick them up and shred them.
On-Site Commercial Document Destruction
When you have paper documents that need to be destroyed, commercial paper shredding reduces the risk of disposing of them. The information on business documents is often confidential and sensitive. If that information ended up with the wrong people, it would jeopardize your customers' and employees' trust in your business.
Onsite commercial paper shredding is meant to give you peace of mind. You reduce the risks of transportation by having our commercial shredding services come to your office. Our onsite mobile shredding truck does the job.
If your business regularly needs to dispose of sensitive documents, you can also sign up for regularly scheduled console commercial document destruction.
Off-Site Commercial Document Destruction
Large volumes of business papers can be destroyed using off-site commercial document destruction. Documents and files can take up a lot of space in your office. When you longer need them, it's time to have them securely destroyed to free up space in your office and maintain their confidentiality. Make some extra space in your office with commercial document destruction.
Absolute Destruction will come pick up your old documents for commercial paper shredding. You don't have to wait to declutter your office. Speedy pickup means you can start making room right away. We offer competitive rates for off-site commercial shredding services.
Commercial Paper Shredding and Recycling
Call Absolute Destruction for on-site and off-site commercial document destruction and commercial paper shredding. We issue a certificate of destruction once your documents and data have been destroyed and removed. All paper products and electronic devices are recycled after destruction.
Fast Commercial Shredding Services
Don't let your documents become a source of liability for your business. Hire fast commercial shredding services to destroy confidential papers and data on-site or off-site. Absolute Destruction brings secure commercial document destruction straight to your door.