Monday, May 30, 2022 11:12 am, Posted by Absolute Destruction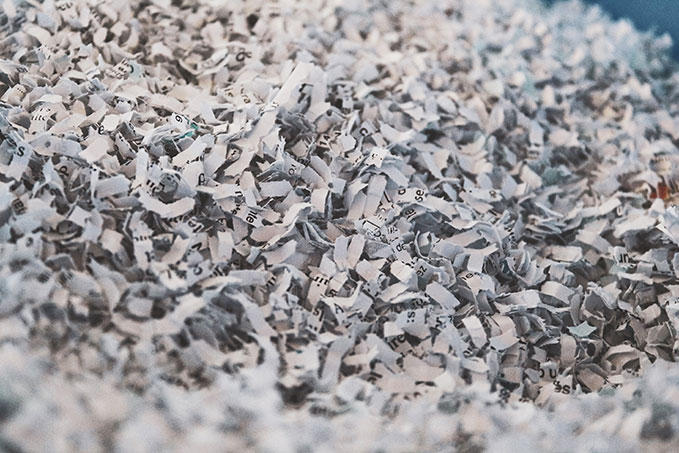 A 2020 survey released by the Office of the Privacy Commissioner of Canada revealed that 77 percent of large organizations and small businesses consider customer privacy protection a significant concern. This is one reason these companies choose to buy a document shredding machine and let employees shred these files when they're no longer needed.
Unfortunately, this is not a cost-effective and safe option. This will take productive time off the employees' schedules while voluntarily exposing classified information.
If, after hearing these arguments, you're still undecided about needing help in paper shredding in Toronto, check out the common misconceptions about their services below. Hopefully, the truth behind these common myths will enlighten you on the importance of what they can offer.
Myth 1: In-House Document Shredding Is 100 Percent Safe
One common misconception business owners believe is that when sensitive information doesn't leave their premises, it's 100 percent safe. What they fail to realize is that in-house document shredding is risky. Even your most trusted employees can forget to shred or dispose of these documents.
A better alternative is to outsource this task to a shredding company because of enhanced privacy. The shredding company's truck visits your office and completes the job on-site. You will have the confidence knowing that no valuable information falls into the wrong hands.
With a reliable paper shredding company around, you won't have to worry about privacy invasion and any types of identity theft.
Myth 2: Recycling Is Better Than Shredding
Another misconception is throwing trash in recycling bins is better than shredding. Both practices could go hand in hand. Companies offering recycling services don't security-screen the people they hire. Also, their collection containers are often unsecured. Things won't end well if you leave confidential information and classified documents in their care.
On the other hand, if you work with a company offering document destruction services, you're assured that all collected documents go through a safe chain of custody. They won't just throw these files in the dumpster. Instead, they'll destroy them in a mobile document shredding vehicle. After which, they'll mix all the collected shredded waste before baling and sending them for recycling.
Myth 3: Non-Paper Items Can't Be Shredded
Rubber bands, staples, paper clips, and other non-paper items can destroy even a consumer-grade shredding machine. You'll have to remove them diligently from the paper files before feeding the latter to the shredder. You can skip this part if you work with a professional shredding company. They often use shredders with industrial-grade blades that can destroy all types of non-paper items.
Did you know?


"You don't need to manually remove paper clips, staples, and other non-paper items attached to would-be shredded documents. Professional shredders will take care of these."
Myth 4: It's Safer to Keep Confidential Information Than Shredding Them
If you hold on to these confidential documents longer than required, you're only making your system susceptible to data breaches.
Once the retention period of these documents ends, destroy them right away. You can keep them in the shredding company's collection containers or mobile shredding trucks and watch them get rid of the files. After which, you can ask for a certificate of destruction to prove that these papers with sensitive information are no longer in your possession.
Myth 5: Shredding Is Not Cost-Effective
Yes, you will surely pay extra for the services of paper shredding companies. However, one of the most common paper shredding myths is arguing that it's more expensive than storing them in a "secured" storage area.
If you let your employees shred these files in-house, either you'll pay for overtime work costs or not hit your numbers. If you let private information and personal data leak, you'll also have to deal with costly damages. Let the experts do the shredding job if you want peace of mind.
If you're operating an office in Ontario and want to learn more about paper shredding in Markham, check out Absolute Destruction. You can also complement the city's proactive recycling and shredding disposal policies by taking proper care of your company's waste.
Invest in the Services of Professional Shredding Firms
Hiring the services of a professional shredding provider offers many benefits. You can protect confidential information, save effort, and have peace of mind. Your people can focus more on growing the business.
Need the services of a professional shredding firm? Talk to us now. Visit us at Absolute Destruction.
FAQs on 5 Common Paper Shredding Myths To Debunk
Can shredded paper be recycled?
Fortunately, shredded paper is recyclable. Most paper shredding companies mix all the shredded materials they gather from their clients before baling and sending them to recycling centers.
How to get rid of paperwork without a shredder?
There are a lot of alternatives to paper shredding. You can reuse the paper; try cutting them with a pair of shredding scissors or shred them by hand. However, these alternatives only work if you're not trying to shred documents with confidential information and only dispose of files in small volumes.
Can paper shredding be used as compost?
Yes, you can use shredded paper as compost. However, keep glossy and coloured paper away as they may contain toxic metals.