Monday, January 23, 2017 6:30 am, Posted by Absolute Destruction
Identity theft has become the country's most frequent non-violent crime. In 2014, at the time of the Canadian Anti-Fraud Centre's last Annual Statistic Report, approximately 15,000 people were victims of fraud and identity theft. To us, the GTA's premier document destruction company, that's 15,000 people too many.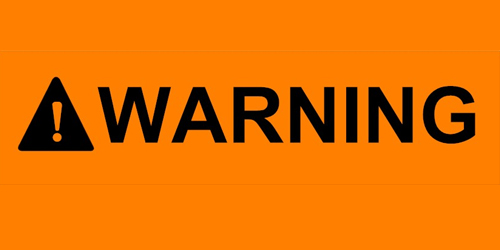 The 'how's and 'why's may differ from case to case, but we're willing to bet many of these victims weren't aware their personal information was being used until it was too late. They remained blissfully ignorant until they noticed large quantities of cash and credit had already been spent. Today, we're going to explore this suspicious activity, in the hopes we can educate our readers about identity theft's early warning signs. When you know how to identify these clues, you can start repairing your finances faster.
Weird Records
In terms of your financial accounts, the red flags of identity theft include the unexpected. If you go online and experience any of the following issues, you'll want to contact the affected account right away.
You notice there are several inexplicable withdrawals from your chequing or savings accounts
You see charges on your credit card's e-bill for purchases that you can't explain
A detailed report of your credit reveals a rating that's much lower than your last check-in
Your legitimate applications to creditors are unexpectedly rejected
Strange Communications
While your e-banking and credit card accounts will reveal the evidence of misspent cash in the form of black and white numbers, there's equal proof in the letter — or phone call. Whenever you receive any kind of message from an unfamiliar company or organization about an account in your name, your suspicions should be raise. The following list will tip you off about hacked finances:
You receive a phone call or letter from a creditor that you've never conducted business with before, and they contact you to inform your application has been received, approved, or rejected
You receive bills and credit card statements in your name for accounts that you never applied for
You receive any letter regarding accounts you did not open
The CRA contacts you about taxes that don't match the one you filed
A distinct lack of statements and bills that you normally receive via Canada Post
A collection agency contacts you about a defaulted account.
Don't ignore any of the above warning signs. They may very well be your only chance to prevent your case of identity theft from ballooning and affecting more of your credit and good name than it already has. As soon as you experience one or a combination of suspicious activity, you'll need to start making preparations. For more information about the organizations and accounts to contact in the case of suspected identity theft, refer to August's post about the other channels of communication you'll need to follow in order to properly record, stop, and recover from this incidence of theft.
Our regular readers will be familiar with these steps. They're an exhaustive list of time-consuming and stress-inducing set of instructions that can take a toll on the victim. It's simply much easier to prevent becoming a victim in the first place.
As the GTA's preferred mobile shredders, we can help people all around Lake Ontario strengthen their defences against fraud and identity theft. Take a look at our one-time clean-ups and purges, commercial and residential services, and electronic data destruction to see which of our secure processes will work best with your needs. A helpful representative is only a phone call away, and they can help you make the right choice. So pick up the phone today. Together we can make sure you don't encounter suspicious activity in the future.