Wednesday, February 22, 2023 12:04 pm, Posted by Absolute Destruction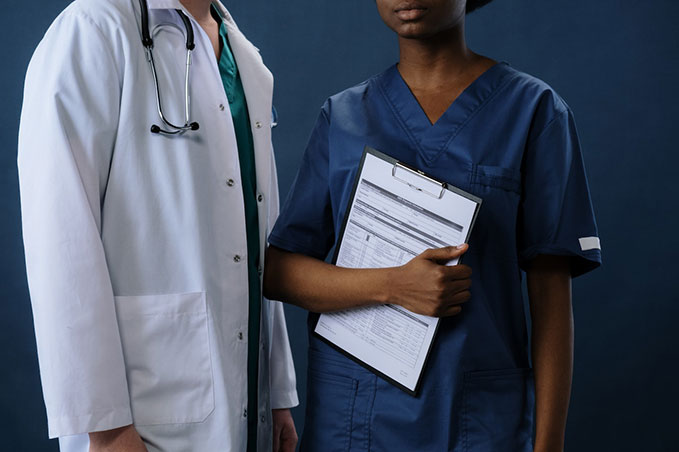 In Ontario, those who have authority over health records have a responsibility to ensure they are protected against a privacy breach. This isn't just a private moral or ethical standard — it's a legal requirement.
The Personal Health Information Protection Act (PHIPA) governs Ontario's privacy legislature with regard to the health sector. It oversees how medical data is collected, used, and disclosed. Supporting this is Ontario's Freedom of Information and Protection of Privacy Act (FIPPA), which enforces regulations regarding the collection, retention, use, disclosure and the eventual disposal of personal data.
With such provincial Acts in place, hospitals should have strict protocols to safely handle current employee and patient records. They should also maintain a safe and secure way to manage document and data destruction when files and technology are outdated.
What Is the Safest Way to Destroy Hospital Files?
Securing a specialist team — like Absolute Destruction — to shred paper documents and securely dispose of obsolete technology is the safest and most securest option. We offer commercial specialty destruction — meaning that we can safely destroy not only medical papers and old technology but we can also destroy ID badges, uniforms and much more. As per PHIPA's requirements, we provide a certificate of destruction upon completion.
Here's why the secure destruction of medical records is crucial.
Why Is Secure Document and Data Destruction Beneficial to Hospitals?
The mismanagement of medical paperwork and data — including patient records, prescription files, OHIP details, payment plans or visitor records — can mean they are stolen, lost, modified, copied, or disposed of. Any of these instances could lead to serious consequences.
It Prevents Individual Identity Theft
Lost or stolen medical records can easily lead to identity theft — leaving individual patients at risk. Often, patient files hold massive amounts of personal information, like employment history, social insurance details and other financial information.
Partnered with regular details like name, address, and phone number, thieves can easily piece together an individual's portfolio for ill intent.
It Mitigates the Potential for Legal Troubles Due to Lack of Compliance
The healthcare industry experiences at least one data breach per day. The incorrect disposal of documents and data maximizes the risk of data breaches and consequential legal trouble.
As discussed above, following a strict destruction protocol is mandatory under the governance of FIPPA. A hospital is breaking provincial laws by simply throwing papers or technology away.
It Can Save Money
Should an individual's medical information become public due to negligence, that unlucky person can lodge a complaint under FIPPA. If the individual wins the case, the hospital may need to pay up to $10,000 in damages to the individual for emotional distress.
Patient Confidence Remains Intact, and the Potential for Blackmail Is Nullified
Individual patient records are highly confidential. Should the data leak in any way, patient trust will be deeply damaged. In extreme scenarios, private data can be used by criminals to extort money or other items from the victims.
The Reduces the Likelihood of Medical Theft
When personnel files erroneously become public, the individuals enclosed are at risk of medical identity theft. This is a relatively new type of fraud whereby a thief uses someone else's medical information to gain access to medicines, benefits, and care.
It Saves Valuable Space and Employee Labour
Shredding documents and clearing offices of old, unused technology frees up much-needed space. It also maintains a standard of organization and cleanliness — a key visual for any respected hospital.
Furthermore, employee time will be saved, as it alleviates the need to search through boxes for files or papers — this is especially important in a space where time sensitivity is crucial. The secure disposal of documents and data is clearly a FIPPA requirement. But hiring a specialized team to process files frees up employee time so that their energies can be better spent elsewhere.
It's Done Properly
The safe destruction of physical and digital documents is a technical specialty. Individual hospital staff — unfamiliar with secure destruction practices — might make errors, which, as discussed, can lead to dire consequences. Conversely, our team of highly trained technicians will safeguard your patient records and data with absolute care.
The Bottom Line
Keep your medical records from falling into the wrong hands. Contact Absolute Destruction today to learn more about our services and how we can help keep your patients and their personal data safe.