Wednesday, December 7, 2022 1:48 pm, Posted by Absolute Destruction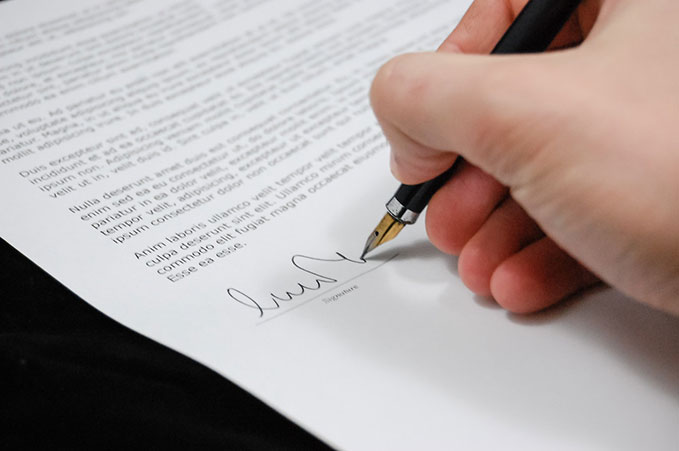 If you own or work for a business that regularly uses contracts, you'll be all too familiar with the massive amount of paperwork that comes with 'signing on the dotted line.'
Since contracts are usually drawn up when employment, services, tangible goods, or money is involved, they often include personal details and confidential information. This certainly makes them one of the more delicate business documents.
With that, it is absolutely imperative that contracts are destroyed safely and securely when they're no longer needed.
Here are just three of the reasons why you should shred old contracts.
1. You're Ensuring the Safety of Sensitive Documents
With sensitive company information or personal employee data (or both) at stake, effectively destroying business documents — like contracts — is key to removing the potential for security risks for both your team and your clients.
Ruthless thieves can use data like names, addresses, dates of birth, social insurance numbers and financial data to commit various types of identity theft. For individuals, this could lead to bank fraud and tax identity theft. On a company level, you may be leaving yourself open to a security breach.
Simply throwing paperwork into the recycling bin won't guarantee its safe disposal. You don't know who is collecting your recycling, when they'll do it (sensitive paperwork could sit outside for days), who is processing papers at the recycling plant, or if it will be destroyed effectively.
While your team could shred papers onsite, there's always room for human error. Losing paperwork or misplacing it may occur (it happens!).
With a trustworthy shredding company, you won't need to worry about sensitive paperwork ending up in the wrong hands.
2. You'll Reclaim Valuable Office Space
Pre-pandemic, there were approximately 11,459 office desks in city offices in Toronto alone — and around 6,093 of these were located in Toronto's downtown core . With this many office workers, there will be a lot of paperwork.
With a hybrid work model becoming the norm for many places of business, companies might consider downsizing their office real estate. Moving the contents from a whole office, alongside fitting everything from the original office into a new, smaller workspace, is sure to cause many a headache. By incorporating a safe corporate document destruction strategy, you'll reclaim much-needed room in your new office, while mitigating the need to move unnecessary paperwork.
3. It's Your Legal Obligation
Depending on the nature of your business, the destruction of personal files may be a legal requirement. Ontario's privacy laws require that data of a personal nature is "disposed of in a secure manner." These laws cover provincial and municipal institutions. In addition, there's federal legislation in place related to for-profit organizations.
Contact us at Absolute Destruction to ensure the safe and secure destruction of old contracts. If your office is downsizing in the GTA, look to us for safe document destruction in Toronto, Kitchener, Barrie and more.
As specialists in commercial document destruction, we at Absolute Destruction offer on-site shredding and off-site destruction — a service for large amounts of paperwork. Technicians will process your confidential paperwork in a secure manner. Once complete, a Certificate of Destruction will be issued, giving you and your team absolute peace of mind.