Monday, June 20, 2022 2:53 pm, Posted by Absolute Destruction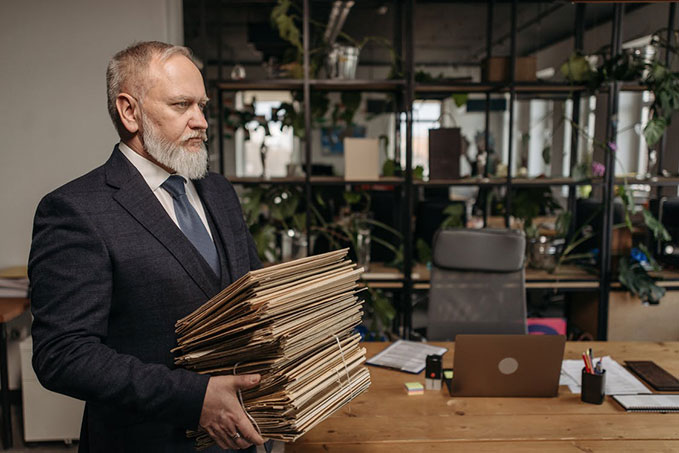 Is your business packed with a considerable amount of documents you no longer need? While it's tempting to toss the files into the garbage can or recycling bin, business documents are more delicate. They might carry sensitive information about your suppliers, customers, or employees. And not using proper methods to dispose of them can result in adverse outcomes and legal implications.
So how do you get rid of thousands of unwanted files without getting into trouble? States have established specific laws about document retention. But they all aim to secure business documents and prevent information leaks that can lead to criminal activity.
Below we've put together essential tips to help you dispose of your business documents more securely.
Ensure That Your Staff Is Trained in Handling Confidential Data
Before sorting through your business documents and disposing of them, you need to understand what's sensitive and what isn't. Everyone in your organization must be on the same page regarding handling sensitive information and the types of business documents to destroy.
Remember that protecting your company's data should be a team effort. Unfortunately, many businesses don't realize that their employees are at the most significant risk of leaking confidential information.
It's crucial to ensure your employees are well-trained about data confidentiality. A lack of training can result in improper data disposal and management. Confidential documents that may require additional security measures can include:
Company's financial and medical records
Employees' social security numbers
Customers' credit card numbers
Client contract details or legal documents
Internal procedure manuals
Office plans and IDs
Intellectual property
Before you get rid of any of these documents, check out the appropriate time to dispose of them or whether you may ever need them again in the future.
Secure Storage of Confidential Paper Documents
The risks of any confidential data and physical documents going missing, either by accident or criminal activity, are high. This is especially true if your company has a lot of paper-based business records that you need to keep for a lengthy time.
Business owners must protect those sensitive documents from the wrong hands to ensure they're at as little risk of a data breach, fraud, and theft. You can achieve this by implementing data protection procedures within your organization.
But, for a starter, secure storage for those paper documents while they're still not due for document disposal. Note that confidential information like bank statements must be adequately secured and easy to access or retrieve in case of audits. Here are some suggestions you might want to consider:
Secure your facility with quality doors, locks, and security systems like alarms or CCTV
Invest in secure offsite confidential storage for data needing longer retention time
Restrict access to the company's sensitive information
Review Your Confidential Waste Disposal
Once the retention period and intended purpose of a confidential document are done, your company's data or paper records become confidential waste. Document shredding and secure, confidential waste are effective preventative measures against security and data breaches.
But, before disposing of anything, always check your local government's rules and regulations on document destruction in London, Ontario, or anywhere in Canada. Whether stored in digital storage or physical media like hard drives, it's vital to have appropriate technical measures in place to eliminate any unwanted sensitive documents.
Consider the following factors when reviewing your confidential waste disposal.
Locate areas where you created the confidential information.
Determine the volume of confidential waste and how often you should dispose of them.
Consider where and how your company disposes of and collects documents before destruction.
Identify who is accountable for getting rid of your confidential waste.
Did you know?

"Selecting the right confidential waste bin for your company is essential. It's vital to get rid of documents in a separate designated container, away from any other waste or non-confidential paper."
Secure Your Business Documents With Absolute Destruction
A sheer volume of unwanted business documents can be challenging, especially if a company doesn't have the appropriate tools to destroy them safely. Investing in professional destruction services is the best option if you're keen to provide the highest level of security for your business's confidential information.
If you are looking for high-quality shredding service in Toronto, we at Absolute Destruction can help. Whether you need a one-off or regular service for your sensitive documents or electronic media, our highest priority is your security. Contact us today to further discuss your specific needs.
Security threats and liabilities can come in many unexpected formats. Contact Absolute Destruction today to provide your required specialty document shredding service.
FAQs on Tips for Disposing Business Documents 
Why do businesses need to dispose of documents securely?
Securely disposing of documents is necessary for every business to avoid costly, legal ramifications. Any leaks of confidential information can result in a data breach, customer distrust, and a significant fine for violating the data privacy laws.
How do you destroy paper documents without burning them?
Burning confidential paper documents is often not a safe option as it may leave parts of the page still readable. Others destroy paper documents by pulping or letting them soak in a water and bleach mixture. But it's still not the most secure method. The best viable solution is confidential waste shredding.
How do you destroy large amounts of documents?
Shredding large amounts of documents on your own can be risky. But a company shredding service certified by the National Association of Information Destruction (NAID) is equipped to legally and securely destroy large volumes of commercial confidential waste.