Tuesday, February 16, 2021 9:58 pm, Posted by Absolute Destruction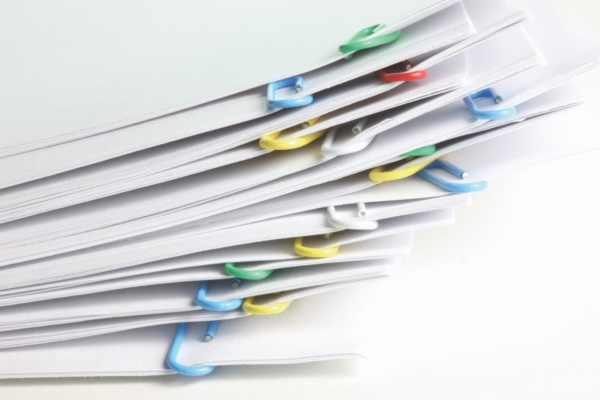 Whether it's for business or your personal records, sometimes you need to hang onto certain information or forms. If you need a document, you'll be upset if you go to look for it one day, and it's gone. But you can drown in papers if you hang onto all of them forever — there's a fine line between being responsible and being a hoarder.
Here's a quick guide to help you understand when to store a form and when to call a professional shredder like Absolute Destruction to get rid of them.
Tax Documents
The Canadian Revenue Agency advises holding onto supporting documents needed for a tax return for six years, seven to be safe. Nobody is expected to hold onto ancient documents from past decades.
Keep documentation related to tax filings organized by year, so you can see at a glance what needs to be preserved and shredded.
If you have old bills or forms you don't need, call Absolute Destruction for our residential document destruction services today. We'll come with our mobile shredding truck and destroy them securely right from the curbside. For larger volumes of paper that need to be shredded, we'll transport them to our facility for safe shredding.
Original, Important Documents
Forms like wills, power of attorneys, property deeds and trusts need to be stored indefinitely. Keep them somewhere dry, secure, and accessible.
There are fire-resistant file folders you can buy at most office supply stores. It's a good idea to store all such documents in the same place.
Rental Forms
It's advisable to keep documents pertaining to rentals for a period of three years, such as rental agreements, rent receipts, and documents relating to the sale and management of a rental property.
These documents contain sensitive information, so be sure to get them professionally shredded after this period elapses.
Guarantees and Warranties
Don't hold onto a guarantee longer than the guarantee itself lasts. Usually, this is for about three years.
These documents could contain information relating to the purchase or the billing. Eliminate these documents when they're no longer useful, and go the extra mile for your security and have them professionally shredded.
Business Papers
When it comes to unique documents pertaining to your business, you may want to err on the side of caution and don't rush to shred them. But make no mistake: when it comes time to discard these documents, they need to be professionally shredded.
Here's a list of commercial documents Absolute Destruction commonly needs to shred:
Legal documents
Blueprints
Architecture designs
Business contracts
Employee details
Marketing material
Business plans
Presentations
Agreements
If you have any of these documents and you're wondering whether to shred them, exercise judgement. It's better to hold onto them for too long then eliminate something you'll eventually need.
But the above types of papers contain sensitive secrets about your finances, proprietary information, and even the direction of your company. Keep these papers close to your chest, and call a professional shredder when it's time to throw them out.
Wondering for how long to preserve records may require some judgement, but when it's time to let them go, call Absolute Destruction.