Monday, June 27, 2022 3:37 pm, Posted by Absolute Destruction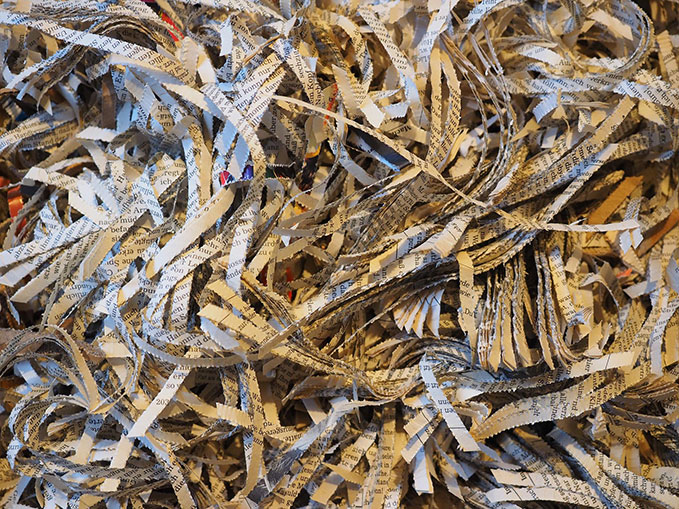 Despite the transition to digital forms of information storage these past few decades, many businesses still have to deal with physical paper documents daily.
In 2020, the world collectively consumed 85 million tons of printing and writing paper.
Essentially, paper documents do provide a layer of protection against cyber attacks. They are practically impossible to hack as long as companies employ secure storage systems for their confidential files.
However, no company could hold on to such extensive archives of documents perpetually, making document shredding an essential part of any business's data privacy practices.
Still not convinced? Here are some reasons you should hire a shredding company to assist in getting rid of physical documents and maintaining safety and confidentiality where it matters most.
Helps You Comply With Privacy Laws
Data security is a primary concern of governments worldwide, including Canada. The country currently has two privacy policies—the Privacy Act and PIPEDA—covering confidential information held by different types of organizations, both public and private.
Businesses often fall under the Personal Information Protection and Electronic Documents Act (PIPEDA). It covers private sector organizations that collect, disclose, or use personal information during commercial activities. It protect citizens against crimes like identity theft.
According to PIPEDA, personal information includes a person's name, age, ethnicity, opinions, social status, disciplinary history, credit records, medical records, employee files, etc.
One of the fair information principles businesses must adhere to under PIPEDA is limiting use, disclosure, and retention. This includes shielding sensitive information from prying eyes and destroying them when they are no longer needed or relevant.
This is where professional shredding services come in. They are most effective when dealing with paper documents you wish to destroy in a way that best avoids data breaches and fulfills your business needs.
You can easily find mobile shredders in Toronto, mainly due to its thriving business sector that is currently 87,000 businesses strong.
Ensures the Safety of Sensitive Documents
Professional shredding companies already have the means, expertise, and experience required to handle the proper destruction of sensitive information. Your only task would be preparing your documents for shredding.
Of course, your company could try to perform document destruction by yourselves. However, this will likely consume a significant amount of your company's time and resources.
And unless your employees have received proper training on document and data destruction, it might be challenging to ensure the quality of your practices.
Leaving this task to professional paper shredding services leaves your business with peace of mind. You can rest assured that your sensitive documents containing your employees' and customers' information will be dealt with appropriately.
These service providers will often give a certificate of destruction after each shredding process.
Reduces Your Carbon Footprint
If your organization has a lot of paper documents you need to destroy, you would be better off working with a professional document shredding company. This is especially if you are concerned about your carbon footprint.
Small-scale, in-house office shredders are suitable for small numbers of documents. However, they would be highly inefficient when dealing with large volumes of paper.
Professional document shredding services have industrial-level equipment that is more efficient than regular office shredders. These assist companies in saving time and energy and helping reduce carbon footprint.
Did you know?

"Adolf Ehinger of Germany was the one who made the
first paper shredding machine
around 1935. However, an eccentric American was the one who acquired a patent for it."


Trust Absolute Destruction for Your Shredding Needs
Whether you're managing a tech company or a manufacturing firm as part of the city's 4,947 businesses, it's ideal that you get in touch with shredding services in Burlington. They can aid in managing your document and data destruction needs.
Absolute Destruction's expertise and over two decades of experience in secure shredding and data destruction services are sure to be a great asset to your company's data protection and privacy efforts.
These practices will allow you to remain trustworthy and protected as your business grows through the years.
Do you want to improve the security of confidential documents in your business? Absolute Destruction can help. Contact us today!
FAQs on Why You Should Hire a Shredding Company
1. Why is shredding important for businesses?
Data destruction, including document shredding, is essential to document management. It assists businesses in addressing security risks and protecting themselves, their employees, and their customers while complying with government regulations on data privacy.
2. What documents need to go through shredding?
Examples of documents containing sensitive data that need to be shredded include:
Old identification cards and documents
Travel itineraries and tickets
Shipping labels
Bank statements, etc.
3. Are there other document destruction methods aside from shredding?
Yes. Aside from using a small paper shredder or hiring a paper shredding company, you could also shred paper by hand. Other ways include burning or dissolving it in water or adding it to your compost. These methods could be effective for smaller volumes of documents but might be time-consuming for destroying documents in bulk.