Monday, October 25, 2021 6:51 pm, Posted by Absolute Destruction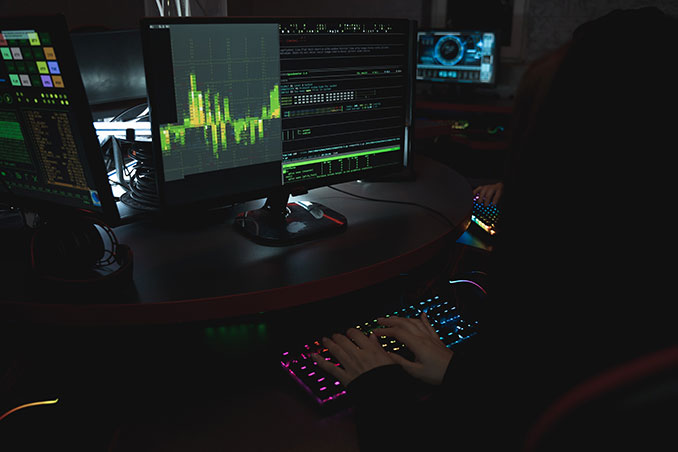 Nothing is permanent in this world, not even your expensive computers and phones. No matter how much you spend on your devices, they will lose their useful life, too. Yet, like humans, their memories will remain forever. Everything stored in them can still be retrieved even after they lose their function.
A data breach has always been a widespread problem in the world of technology. The number of incidents remains on the rise despite the security on devices. Even those thrown in the garbage area or junk shops are not spared. Now that we are at the beginning of the IoT era, even our appliances can also be subject to it.
E-Waste Explained
E-waste refers to electronic products nearing the end of their useful life. In essence, it is a name vaguely applied to unwanted electronic equipment and devices. It includes computers, laptops, and fax machines.
Electronic waste does not necessarily mean that the equipment is no longer working. In fact, many products can still be refurbished or recycled even after depreciating. In 2019, 17.4% of 50 million discarded e-waste was recycled. To be more specific, these become e-waste once they lose their value or stop serving their purpose. Breakage and redundancy are the most common causes of e-waste. The technology is evolving, and some products can no longer meet insatiable needs. For example, Windows upgrades every specific period. As such, some computers may not work due to incompatibility with newer versions.
There is 20-50 million e-waste trashed globally every year. From 2014-2019, the number has grown by over 20%. E-waste in Canada and the US recycled was 20% and 12%, respectively. It comprised 2% of trash in landfills and 70% of toxic waste. For this reason, it has become the fastest-growing municipal waste stream in the country.
What is Data Security?
Data security is protecting digital information from unauthorized and malicious acts. It covers all information security aspects. It includes hardware and storage devices, admin controls, and software app security.
Despite the preventive measures, data breach remains a problem in Canada. In 2020, 86% of security leaders said their organization suffered from a data breach. Eighty-eight percent of them considered the incidents material. In general, it increased by almost 80% and became more sophisticated. The remote-work setup and the hype in the crypto market were the primary drivers.
Even so, waste disposal in Canada continued to increase. Although over a million tons were recycled, disposal kept increasing. As mentioned, e-waste must be handled with utmost care to secure your information. As such, e-waste and data security must go hand-in-hand.
Today, most are in danger when disposing of their devices. Many Canadians still ignore electronic data security, even if it is now a big issue. Some continue to buy and sell second-hand devices.
Keep in mind that even if you delete information, it may still be accessed by cyber-criminals. Second-hand devices are more susceptible to data breaches due to residual data. More often than not, the retrieved info is enough to uncover the identity of the original owner.
Protecting Yourself Online
In recent years, environmental hazard issues have been raised as e-waste increases. But, more problems arose from data breach incidents related to e-waste.
Dangers of E-Waste
Imagine you found precious stones and metals and put them in a treasure box. Years passed by, and you forgot the treasure, so you discarded it when you no longer wanted it.
That is what happens when discarded computers or laptops become subject to a data breach. Now that the IoT era is starting, more equipment will connect to the internet and store data. More equipment will be vulnerable to cyber-attacks and theft. With that, you should not dispose of e-waste right away. It will lessen environmental hazards and keep your data safe from hacking.
In 2020, the total average cost of a data breach reached millions of dollars. The global healthcare sector incurred the highest cost of $17.13 million. Global costs further increased by $137,000, driven by the work-from-home setup.
E-Waste Disposal
People seem to think that once they dispose of their obsolete computers, things are over. Little do they know, these store information that may expose them to security threats. Even if they remove data before trashing the equipment, the dangers are still high. If it ends up in the wrong hands, it may be subject to theft, ransomware, etc.
Large companies lost millions, not to mention lawsuits and retrieval fees. These are some ways to dispose of e-waste properly.
Look for a Certified Recycler
Provinces issue a certification to e-waste recyclers. Certified recyclers accept various electronic equipment. Even so, you must remove information before dropping them off for extra protection.
Check with Retailers
If you buy new items from a retailer, he will likely take back the old ones you purchased. Many countries support them in ensuring the recycling of old electronics. For example, some governments impose an e-waste recycling fee. It will be used to pay for the future e-waste recycling process.
Seek Help from E-Waste Disposal or Destruction Services
A document destruction company is often hired by companies with many documents to shred. They also serve for disposing of outdated or unusable electronic products. They pick up the items and ensure a proper disposal or recycling process. Individuals can get their services as well.
Donate the Equipment
If the equipment is still working, donate it to charity instead of throwing it away. Other institutions accept old but working equipment as donations.
How Business Can Be Vulnerable to Data Breaches
Reason 1
Even if confidential information is deleted, it can still be accessed by hackers.
Reason 2
Hard drives can be saved and sold to organized criminals. They can disrupt business operations and get sensitive information.
Reason 3
Neglected devices or disks may end up in the wrong hands. This is dangerous if they contain client and employee information.
If you're having trouble handling e-waste and data breaches, contact Absolute Destruction & Recycling Corp. for assistance.
Pro Tip: Don't take data security for granted because it could bite you in the back without notice.
Contact Absolute Destruction for Your Data Destruction Needs
Destroy your data before disposing of or recycling electronic equipment. Doing so will protect you from data breaches like identity theft and ransomware. If you have trouble with e-waste, reach out to Absolute Destruction & Recycling Corp. We are an established commercial data destruction company in Southern Ontario. Our experts help many Ontarians with document shredding and data destruction.
E-Waste & Data Security FAQs
Which country produces the most e-waste per year?
China is the largest producer of e-waste, which reached 10 million metric tons in recent years.
What are data security standards?
It is a set of regulations created by Visa, MasterCard, American Express, Discover, and JCB. Some practices include the restriction of cardholder data, creating non-default passwords, etc.
Does WhatsApp keep deleted messages?
WhatsApp does not make permanent deletion of messages. Deleted messages are marked as 'deleted' but are still saved in the app.